Meatless Monday – Vegan Hoppin' John
Web yuh seh! Jamaica part of the Global Meatless Monday Movement.  In Jamaica there's a growing awareness of the benefits of more vegetables and reduced meat diet on health. To find out more about Jamaica's Meatless Monday community visit their Facebook page. So start your week without meat!
Vegan Hoppin' John
Today's Meatless Monday recipe is a Southern specialty. While traditionally made with bacon, this southern fare can be just as hearty and flavorful without it. The key to a satisfying vegan version is the addition of one secret ingredient: smoked paprika.  Complete your Southern Super with a spring salad and a glass of iced Sweet Tea!
2 cups black-eyed peas, dried
1 tablespoon olive oil
1 medium yellow onion, chopped
2 medium green bell peppers, seeded and chopped
1 large stalk celery, chopped
1 teaspoon dried thyme, crushed
1/2 teaspoon smoked paprika
1/4 teaspoon sea salt
4 cups vegetable broth
1 can of diced tomatoes
2 cups dried long-grain brown rice or brown basmati rice
1 pinch cayenne pepper
Ground black pepper, to taste
2 green onions, green parts only, chopped
Tabasco sauce (optional)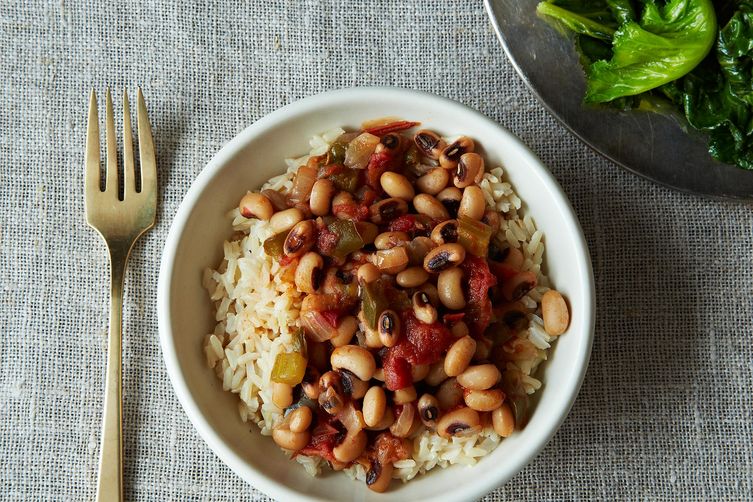 Direction
Place the black-eyed peas in a pot of water and soak overnight. Discard soak water.
Heat the olive oil over medium-high heat in a large pot. Add the onion, pepper, and celery. Sauté until the vegetables are soft, about 6 to 8 minutes.
Add the thyme, paprika, and soaked/drained peas. Then add the vegetable broth. Bring mixture to a boil and reduce to a simmer. Cook until the peas are tender but not mushy (about 35 to 50 minutes). If excess broth remains when the peas are cooked, you can gently pour it out of the pot. Strain the diced tomatoes and add them, along with the salt, to the bean mixture. Heat through. Check and adjust the seasoning with black pepper, cayenne, and salt as needed.
While the beans are cooking, cook the rice according to package instructions. Fluff and set aside.
Divide the rice into bowls. Top with the pea mixture and sprinkle evenly with green onion. Add a dash or two of Tabasco if desired.
Serving for 6.  I think adding coconut milk to the recipe would help to add more flavor to the dish. Let me know if you try it with or without the coconut milk by leaving a comment below.